Can you believe it's June already?! May passed by so quickly, I feel like we skipped it completely. Now that it's time for summer, it's a great time to enjoy healthy, convenient snacks! Boom Chicka Pop is just that–a healthier popcorn that can be eaten on its own, or added to a snack bar, to trail mix, and more to create a convenient snack that is perfect to take on hikes, road trips, or enjoy by the pool! It's perfect for summer!
How Much Does Boom Chicka Pop Cost?
As far as 'healthier' popcorns go, Boom Chicka Pop is actually fairly affordable!

A medium-sized 4.4-oz bag is $2.78 at Walmart. I seem to remember paying more for the ones I get at Market Street, but hopefully, that gives you an idea of the cost. Remember that even though it seems like a lightweight bag, it's popcorn–so it doesn't weigh much! It is a good-sized bag and usually lasts my husband and I a week or two.
How Does It Taste?
There are so many fun flavors of this popcorn! Angie's has gotten very creative with their flavors…they have classics such as butter popcorn, sea salt, white cheddar (which is my fave) and then less conventional ones like sweet barbecue (which I'd love to try!) and sweet cinnamon roll drizzled popcorn.

Compared to other popcorns, the flavor of Angie's is lighter. Meaning, not as salty and the flavors are not as concentrated. This is likely due to the "real butter" that they use versus the concentrated liquid butter you'd find at the movie theater, for example.

That being said, it's delicious! I really enjoy the taste of it and although it may taste a bit bland to those who are used to eating microwave or movie theater popcorn, I think it's worth switching to since it has less sodium, saturated fats, and better ingredients!
Nutrition Breakdown of Boom Chicka Pop
One of my favorite things about this popcorn is that it is lower in sodium when compared to traditional popcorn!

Here's the nutrition label.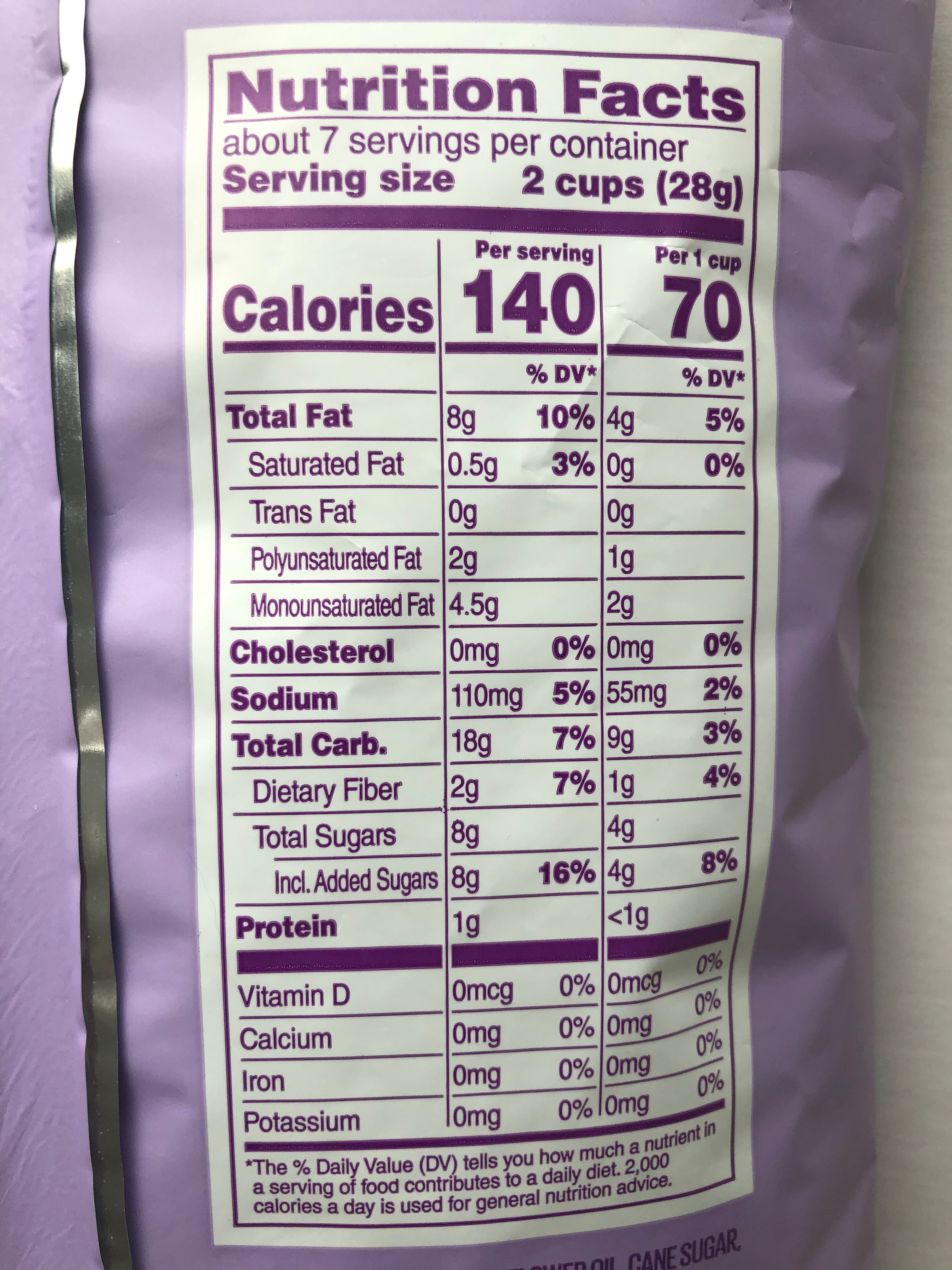 The picture above is from the Sweet and Salty Kettlecorn flavor. As you can see, in a 2-cup serving it is low in sodium, saturated fat, and sugar.

It also contains whole grains. The USDA recommends that adults and children make half of the grains they consume be whole grains as opposed to refined grains. This is because whole grains contain more fiber and nutrients that are often lost when grains are more processed.

Popcorn is a great snack and a great way to add whole grains to your diet! Most Americans do not get enough fiber, so this is an excellent benefit of popcorn.
The Pros of Boom Chicka Pop
This popcorn is full of whole grains, most flavors are low in sugar and sodium, and it tastes great! It's easy to add to a lunchbox, purse, picnic basket, gym bag, etc to take with you for convenience. I personally love to take it on road trips or when traveling because it's a great light snack! Overall I love this product!
The Cons of Boom Chicka Pop
There isn't much I have to criticize about this product! I really like it and enjoy it often with lunches or in between meals.

As with most products that are marketed as "healthier" versions, I think it's important to examine one's motives as to what draws you to a given label or item. If you feel guilty for eating regular popcorn, or that you have to eat "the good popcorn," it's best to reexamine your motives. This could mean you have an unhealthy relationship with food! I always say this, so for my repeat readers I'll save my soap box. Check out this post to read about why seeing foods as "good" or "bad" is not helpful to our relationship with food!